"Paintings From the Wild -
The Art and Life of George McLean"
By
George McLean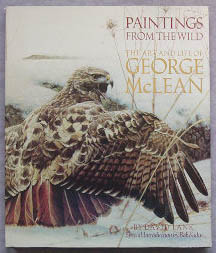 ---
"

Paintings From the Wild - The Art and Life of George McLean

" by George McLean

First Edition Hardcover Book with Dust jacket
Year Published: 1981
Pages: 146
Plates: 40 Colour plates and 14 black and white sketches
Text by David Lank
Special Introduction by Bob Kuhn
Size: 10-1/4" x 12-1/4"
Publisher Sold Out
We have an extremely limited quantity available in mint condition -
still in original shrink wrapping - never opened!
Current Price: Canadian $100.00; approx. US $95.00
This magnificent book reveals George McLean's subtle, yet compelling style and describes a man, who through sheer perseverance and commitment, has realized his dream.
The cover art features "Red-tailed Hawk - Mantling". This painting is, in my opinion, McLean's best; and perhaps the most sublime animal painting ever. Also featured are "Bald Eagle", "Reclining Cougar", and paintings of deer, otters, tigers, sheep, cats, dogs (yellow labrador and a collie) and many others too numerous to mention!
Animal art historian David Lank writes: "Never has there been a greater number of talented artists devoting their lives to animal art. It can be said that a handful stand out above the rest. One of that handful is George McLean."
In this authoritative text, Lank describes the art and life of George McLean, casting McLean in the tradition of such great painters as Bruno Liljefors of Sweden and Leo-Paul Robert of Switzerland. McLean produces only one or two major paintings a year, and his works are quietly sought out by the most knowledgeable collectors on the continent. "Working unobtrusively in southern Ontario," writes Lank, "McLean is producing some of the world's finest art. It is true art; it happens to deal with the living world. Technically, artistically and intellectually, it is art on its highest plane."
McLean emerged from a sometimes difficult childhood to pursue his childhood dream - painting animals and their habitats. It took years of training on expeditions in the field and hours in front of his canvas to develop his subtle, yet compelling, approach. McLean can create a naturalness that has not been surpassed and only seldom equaled.
The book has 40 colour plates and 14 black and white sketches. In addition, McLean has shared his own impressions of his subjects, writing on the nature of the animal and why he painted it.
Writes Lank: "Vigour is the passion of McLean and his work."
"George McLean is a serious artist whose love of the wild world permeates his thoughtful paintings. All elements in the scene depicted are studied, learned - and made a part of the whole... an orchestration that is uniquely his own." - Bob Kuhn, Artist, U.S.A.
"If you thought that the great masters of animal art were all a thing of the past, then look again at the work of this great living Canadian artist." - Raymond Harris-Ching, Artist, England
In any field of human endeavour life is like a pyramid at the top of which there is room for only a very select few. George McLean as an artist - not just an animal artist - is among those few. - David Lank, Art Historian, Montreal, Canada

E-Mail: info@artandnature.com