In addition to the complete collection, we have some of these prints available individually.
By W. Allan Hancock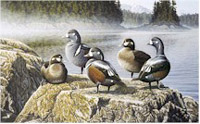 Wildlife Habitat Canada has unveiled the painting Wintering West – Harlequin Ducks, by B.C. artist W. Allan Hancock, as the image of the 2005 Wildlife Habitat Conservation Stamp Print.

Born in Timmins, Ontario, in 1968, W. Allan Hancock has had a fascination with the natural world from his childhood days. Allan spent most of his youth in Saskatchewan where abandoned homesteads and the remnants of human heritage also began to leave a lasting impression.
Allan sees the conservation and preservation efforts of various organizations as mankind's attempt to be a positive influence on the natural world – an attempt he wants to be part of. Through his participation in these efforts, Allan's artwork has been selected for numerous fund-raising projects for conservation purposes. His paintings can also be found in collections throughout Canada, the United States, and parts of Europe.

2005
Wildlife Habitat Canada
Conservation Stamp Prints


Limited Editions

Regular Edition
Limited Edition on paper signed by the artist.
Edition Size: 9,500
Image size: 9" x 6-1/2"
Price: $195.00
Medallion Edition
Limited Edition on paper signed by the artist
with a gold-plated medallion of the image.
Edition Size: 1,300
Image size: 9" x 6-1/2"
Price: $400.00