Trisha Romance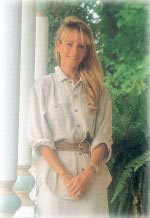 Trisha's Life as an artist began at a very early age. The drive to capture her immediate surroundings and find inspiration in everyday events of life can be traced to when she was only five years old. This vision and excitement for life continues to be the creative force behind her celebrated work today.
"I thank God continually for the simple moments in life...they feed my soul and forever renew my inspirations", says Trisha.
Trisha was born in Western New York and moved to Canada in 1969 to attend Sheridan College in Oakville, where she received a degree in design and illustration. She now lives in Niagara-on-the Lake with her family, who have become the loving focus of her many paintings in watercolour.
The popularity of Trisha's paintings continue to grow, exceeding her ability to supply the demand. Since 1980, limited edition reproductions from the originals have allowed collectors to enjoy her artwork worldwide.

Limited Edition Prints
Signed & Numbered Limited Edition Prints
Click on any image for complete details and larger image